The first cognitive-behavioral therapy program occurred during the 1970s when individuals were in search of effective therapies for treating mental health disorders and substance abuse. When addicted individuals are looking to achieve and maintain sobriety, a cognitive-behavioral therapy program can be used simultaneously with other therapies.
A cognitive-behavioral therapy program is useful in a group, as well as during individual sessions, and focuses on connections between behaviors, emotions, and thoughts. This form of therapy also provides those who are in recovery with the coping skills they need for resisting triggers. For more information about the addiction treatment therapies we offer at our addiction treatment center in Concord, NH, contact Blueprint Recovery Center today at 833.654.1004.
The Benefits of Participating in CBT for Addiction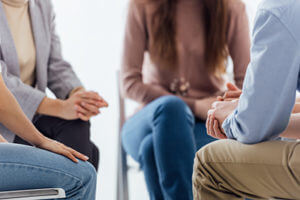 Destructive and harmful thinking are both common among those who are struggling with substance abuse disorder. Because these individuals do not recognize these thoughts patterns are negative and harmful, they often seek treatment for external influences or depression. Because cognition affects an individual's wellbeing, they must change harmful thought patterns.
Participating in this therapy program helps them address these thought patterns. At the same time, they can also simultaneously regulate distressing emotions and harmful behaviors. A cognitive-behavioral therapy program in NH is beneficial in the following ways:
It explores a patient's behavior patterns that lead to self-destructive acts, as well as beliefs to help direct those thoughts

CBT helps patients and therapists to work together to develop a therapeutic relationship identifying harmful thought patterns and actively seeking alternative thinking

The sessions use homework occurring outside of sessions to augment the recovery process

This form of therapy is available in individual and group sessions

The skills patients develop skills that include helpful, practical, and useful strategies patients can incorporate into their daily life

These therapies help patients develop coping skills, thus allowing them to handle potential difficulties and stressors that follow addiction treatment
About Using CBT During Substance Abuse Treatment
One of the biggest obstacles regarding self-change is negative thinking. One of the most common types of negative thinking is when someone has an all-or-nothing attitude. One of the leading causes of addiction, anxiety, and depression is negative thinking patterns. Those who use all-or-nothing thinking, as well as those struggling with addiction, find themselves consumed with negative thinking patterns. When someone has an all-or-nothing attitude, that means they think they must do something perfectly, or they are a failure.
When those in substance abuse treatment participate in a CBT program, they combine written exercises and thought records to understand their thought patterns. These strategies also include understanding how these negative thought patterns impact their life and, as a result, the need for developing healthier ways of thinking. Then, they take that information and determine practical ways of incorporating that thinking into their daily lives.
What You Can Treat with a Cognitive-Behavioral Therapy Program
While CBT is beneficial when treating a wide variety of addictions, certain substances are the most successful. According to a report published by the Psychiatric Clinics of North America, a cognitive-behavioral therapy program is most beneficial for specific forms of substance abuse. Those forms include:
Cocaine addiction

Methamphetamine addiction

Marijuana addiction 
Those who participate in a CBT program have shown that they experience long-lasting results regarding their substance abuse. For example, this report indicates that 60% of CBT patients were able to complete a clear toxicology screening when attending their 52-week follow-up session.
Blueprint Recovery Is Here To Help
Most programs offer psychotherapy as part of treatment. We offer a number of programs that incorporate CBT including:
Are you, a loved one, or a close friend struggling with addiction and believe that a cognitive-behavioral therapy program can help? Do you have questions about how a cognitive-behavioral therapy program works? No one should have to experience these struggles without help. Contact 833.654.1004 to learn more about CBT and how we can support you.